Snack Provision (Early Learning and Childcare only)
There are no charges for the 5 sessions of early learning and childcare education provided each week for eligible children. However, there is a small snack charge of 50p per session attended.
School Meals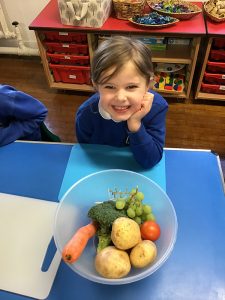 It is the Authority's policy to provide meals and facilities for the consumption of packed lunches in all schools where these are required. In addition, as part of Scottish Government legislation that came into force in January 2015 free school meals are available to all pupils in P1-P3. Please see below for details of free school meals for pupils from P4 and beyond.
At Kilninver Primary School, we encourage healthy eating and share a range of fruit and vegetables together on a Friday morning.
School lunches are planned so that children can choose a well-balanced meal and a good selection of bread, vegetables, fresh fruit, fruit juice and milk are available daily.
However, some pupils prefer a packed lunch. We believe a well-balanced packed lunch with a tasty alternative to chocolate biscuits and sweets is very important, although one small treat per day does no harm! Dates, raisins, sultanas, carrot sticks, cherry tomatoes and seasonal fruit could provide healthy alternatives. Unflavoured milk and water are the ideal drinks for teeth and a pure fruit drink or mineral water is better than drinks with high sugar content.
Sandwiches often form a major part of a packed lunch. Fillings for sandwiches should be chosen with care because the packed lunch will be stored in a warm classroom for a number of hours. It is therefore advisable to use a cool bag and ice pack and choose fillings that are less likely to be affected, e.g. cheese and tomato, salad, egg and tomato. An alternative to sandwiches could be cooked pasta with a variety of fruit or vegetables and a suitable dressing. Occasionally a piece of quiche or pizza could be included.
The school aims to encourage children to enjoy food which is both attractive to them and nutritionally sound, whether this is a school meal, a packed lunch or a snack. We would appreciate your support in achieving this aim.
Free School Meals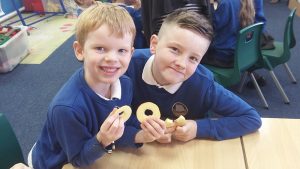 All pupils in P1-P3 are entitled to a free school meal. Parents do not have to register for this; all pupils will receive this meal automatically.
Free school meals are also available, via an application process, to pupils from P4 and beyond whose parents or carers receive any of the following:
• Income Support
• Income based Job Seekers Allowance
• Income related element of employment and Support allowance
• Child Tax credit but not Working Tax Credit (Income should not exceed £16,105)
• Child Tax Credit and Working Tax Credit (Income should not exceed £6900)
• Support under Part V1 of the Immigration and Asylum Act 1999
• Universal Credit
A free school lunch will also be available to children who attend nursery and receive their free early learning and childcare over lunchtime if parents receive one of the benefits listed above. In addition, pupils aged between 16 and 18 years who receive any of the above benefits in their own right also qualify.
To complete an online application form please visit https://www.argyll-bute.gov.uk/education-and-learning/childcare-school-and-education-grants-0. Alternatively, please contact Customer Services: Education on 01369 708548 or your local benefit enquiry office.
Payment for all meals and the admin of free school meals is organised anonymously through the school office.
Please note that the above eligibility criteria is correct at time of publishing (November 2019) and may be subject to change by the start of August 2020. The link above will contain the most up-to-date information.
If you are not eligible for any of the benefits listed above there is a separate application process available and you should contact either 01369 708548 or your local benefit enquiry office for details.
Special Dietary Requirements
Special dietary requirements should be made in writing to the school office. Information regarding allergies is collected at enrolment and the start of each school year.